Table of content
As you may be aware, the Vmaxpro and Vmaxfit brands have passed a rebranding process and are now known as Enode and its sub-brands Enode Pro and Enode One. While the changes are all visual in nature, we understand that you may have some questions regarding this transition. In this blog post, we will address some of the most common questions that may arise and provide you with all the necessary information to better understand the rebranding process.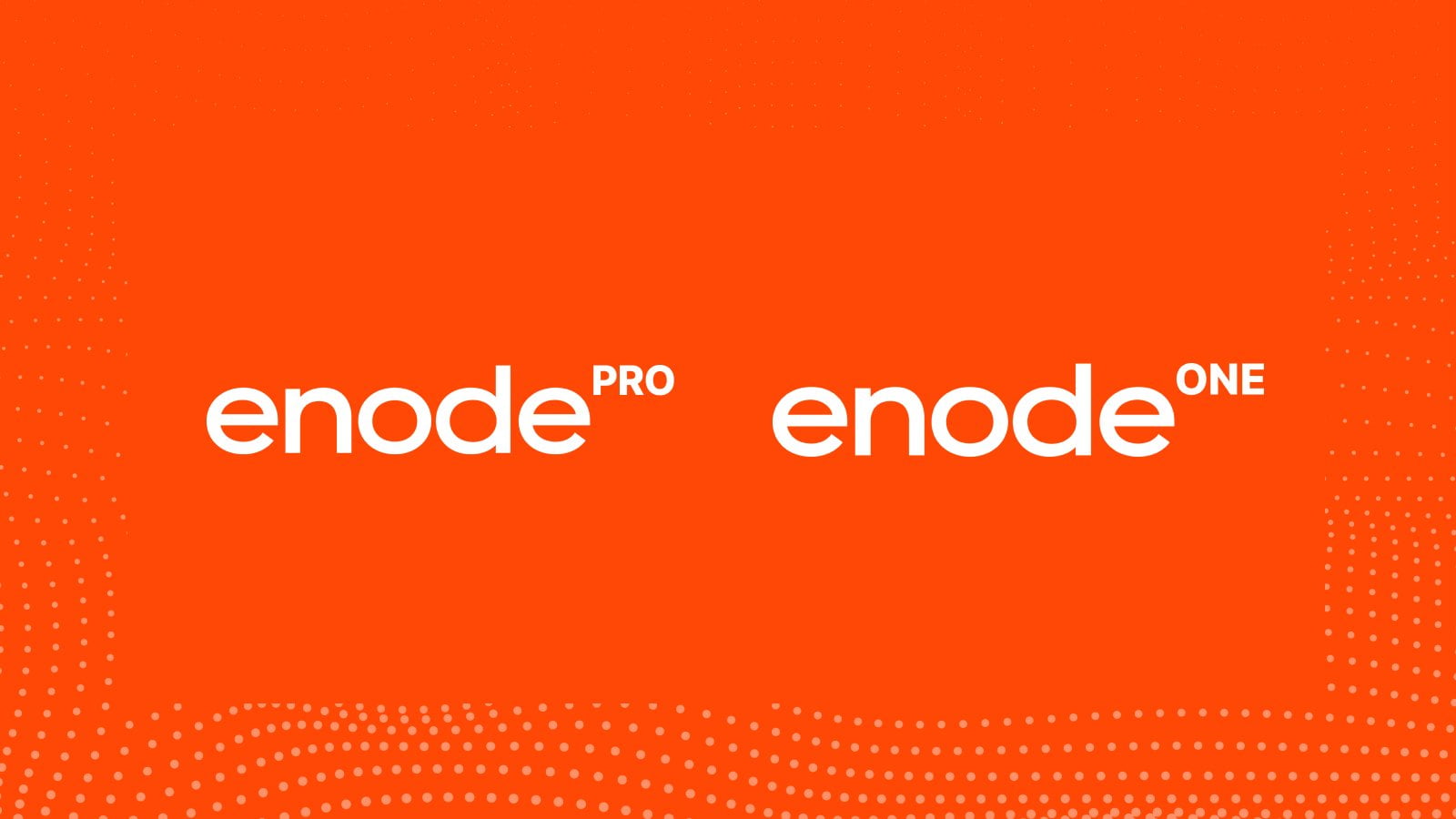 First and foremost, it is important to note that the rebranding process is purely visual in nature and will not affect the quality or functionality of the products and services once offered by Vmaxpro and Vmaxfit. Our existing customers need not worry, as the transition will be smooth and seamless, and you can continue to enjoy the same level of quality and service that you have come to expect from us. For the most part, it will just an app update for you.
The primary reason for the rebranding is to better align the Vmaxpro and Vmaxfit brands under a single umbrella brand, Enode. This will create a more cohesive and consistent brand identity that will help us better communicate our mission and values to our customers. The Enode brand will represent our commitment to providing high-quality, innovative, and user-friendly products and services that help our customers achieve their health, strength, and fitness goals.
In addition to the new umbrella brand, we are also introducing two sub-brands: Enode Pro and Enode One. The Enode Pro brand will be focused on providing advanced, professional-grade products and services for our most dedicated and experienced customers. While the Enode One brand will be geared towards providing entry-level and user-friendly products and services for our customers who are just starting their fitness journey.
One of the key changes that you will notice is a new visual identity for the Enode brand. This includes a new logo and color scheme that reflects our modern and dynamic brand personality. The new logo is a stylized letter "E" that is inspired by the shape of a data graph, symbolizing our key ingredient for supporting the health and well-being of our customers. The color scheme is a combination of vibrant and energetic hues that reflect our passion for health and fitness.
Overall, the rebranding of Vmaxpro and Vmaxfit to Enode and its sub-brands Enode Pro and Enode One is an exciting development that will help us better communicate our mission and values to our customers. We are confident that the new visual identity will help us connect with our customers on a deeper level and support their health and fitness goals. Thank you for your continued support, and we look forward to sharing more updates on the rebranding process in the future.
Frequently Asked Questions
When will the sensors be available again?
We hope to be able to deliver sensors to you again towards the end of December. The last parts are already on their way to us.
Is anything now outdated for me?
No, from the current version of the Vmaxpro Sensor, there are no changes other than the logo on the outside of the housing. Besides, Enode Sensors will have about 30% better battery life, which is due to a larger built-in battery. All the other products in our portfolio are only getting cosmetic changes.
Is the app the same?
The app is the same app, just with different colors and a different name. In terms of functions, it's exactly the same as before.
Do I have to download a new app?
No, there is an app update for the existing app. If you have automatic updates turned on, it is most likely already up-to-date. If automatic updates aren't turned on, you can update manually from the respective App Store. Besides, the new app experience is also available on Android now!
Do I need to change anything regarding my account or subscription?
No, the changes that are happening are just happening visually. Your account will be the same as before. Our software subscription called Vmaxpro+ will be called Enode Pro+, including the renamed product Enode Lab (Vmaxpro Science).